Note: This post contains affiliate links. Simply put, if you click on a product and make a purchase, we may make a small commission. This is at no extra cost to you. For more information, please see our disclaimer and privacy policy.
The Wide World of Wine Tumblers
Wine tumblers have become so popular that the number of options can be overwhelming.
Abundance of options + high quality = good problem to have. That is, until you have to wade through all the choices on multiple websites.
Thus, we decided to take on that task. The result is an article that curates the abundance of wine tumblers by top picks in popular categories.
Let us do the the hours of research for you.
We err toward "most bang for your buck" but that doesn't mean we skipped over a few luxury choices. In the article, look for the Premium sections.
For your convenience, we have a Table of Contents to take you directly to the categories of most interest to you. But, as always, we're so glad when you choose to take the full journey through our post!
Why use stemless wine tumblers?
The stemmed wine glass allows us to securely hold the glass by the stem instead of by the bowl, which would otherwise warm the wine from the heat of our hand.
The longer the stem, the more important it is to keep the wine chilled. Red wine glasses, for example, come with shorter stems because reds often benefit from a little warmth from our hand. Whereas a champagne flute typically has a long, spindly stem.
Wine aficionados frown upon fingerprints on wine glasses and the stem helps prevent those as well. They also suggest that tumblers snuff out the aroma of wine because the wine can't be swirled as in a traditional wine glass.
So, why would we use a stemless wine tumbler?
Wine tumblers are trending for a reason, and we can think of several.
They store easily. Aside from the insulated wine tumblers, they stack easily in a cabinet.
Again, other than the insulated variety, they are dishwasher safe.
Wine tumblers are good for large parties, for the above reason, plus they don't easily knock over.
Some wines benefit from being held by the bowl.
Insulated wine tumblers keep wine chilled longer than stemmed glasses.
Old World charm and tradition also play into reasons to use wine tumblers. In Italy, wine tumblers – which look like juice glasses – were used in casual settings and for inexpensive wines. Wine tumblers were popular in Italian trattorias and French bistros.
Italian Wine Tumblers
Italian wine tumblers were popularized in homes and trattorias and beckon back to simple times and simple wines.
The setting is casual and friendly. No one is concerned about fingerprints, wine aroma, or temperature. Wine is simply the drink of a regular day by ordinary people.
But that doesn't mean we can't fancy things up. Thanks to the historic traditions and methods of Murano glass makers, even wine tumblers have become a luxury item.
First, though, let's consider some of the more ordinary, everyday wine tumblers.
Three of our everyday favorites for wine tumblers come from the History Company. These wine tumblers are exactly like what you would see in the Italian countryside or in a trattoria.
"The trattoria goblet represents a "rustic" approach to wine consumption, circumventing a common drinking hazard — glass breakage — while at the same time leaving your hands free to gesture," according to the History Company.
"In the Italian country side, everyday table wines are sipped from these small glasses, sturdy enough to endure numerous rounds of toasts and glass-banging that can occur over the course of a single spirited meal."
As we leave the trattoria, we venture into more elegant Italian settings. Antoni Barcelona creates affordable drinkware reflecting the culture, art, and beauty of Barcelona, Spain.
Premium Italian Wine Tumblers
For collectors and connoisseurs, we present wine tumblers in Murano glass.
Murano glass, often referred to as Venetian glass, dates back to the high middle ages in Italy. The medieval glass techniques that began in Venice are still used in the Murano glass of today.
A series of bridges across the Venetian Lagoon connect the northern island of Murano to Venice where the original glass furnaces were located. Murano became the glass manufacturing center for Venetian glass when the glassmakers were ordered out of Venice – which was full of wooden structures – because of the fear of fire.
The high point of Murano glassmaking peaked in the 16th century but the art continues today. Fewer pieces are made and the price point is high.
"For centuries, people associated glass-blowing to Murano glass. However, it is thought that Murano glassmakers initially inspired themselves to ancient crafts produced in Syria, Palestine, Greece, and especially Rome," according to Venezia Autentica, a social enterprise with the mission of transforming the way tourism impacts Venice.
A few things to point out about Murano glass, starting with this: Murano glass is not crystal. If someone tries to sell you Murano glass and labels it as crystal, question them.
Characteristics of Murano glass:
The glass is handmade and pieces can be slightly different from one another.
Murano glass is full of rich, vibrant colors.
It's popular for glassmakers to put gold or silver specks in their formulas.
The glass often has labels to note the name of the glassmaker, and some come with certificates of authenticity.
Our favorite picks are the traditional style Murano wine tumblers, but we're also fans of some of the more modern designs.
If your style runs toward contemporary, you may enjoy this set of 6 tumblers in multicolored stripes. We've included a photo below along with a few other selections as a sampling of what is available. To see more, visit the YourMurano page for tumblers or for their full glass offerings.
Click on an image to find out how to order.
In the 1920s, Murana glass artisans created the technique of Incamiciato, literally meaning "in a sleeve" or "jacketed." A layer of opaque milk glass is fused with a layer colored glass. Gold or silver leaves were often used to enhance the effect.
We're partial to the Murano Glass wine tumblers, created with the Incamiciato technique, as special occasion gifts or as a colorful collection for your table. They come in a variety of colors, but all of the tumblers come with an authenticity label and are signed.
Our most extravagant recommendation is this set of 6 Murano glass tumblers and decanter covered in 24k gold leaf. Hand-painted enamel flowers are set against red glass.
The wine tumbler set was handcrafted using the "Tre Fuochi" (Three Flames) style of Murano glassmaking. The three-stage process is rarely used nowadays.
According to Glass of Venice, the top importer of Murano glass to the U.S., "Tre Fuochi or Triple Firing is a three-stage process where Murano glass masters first blow and shape molten glass, then apply hand-made enamel and gold designs and fire the glass again, and finally fire the glass for the third time to solidify the design."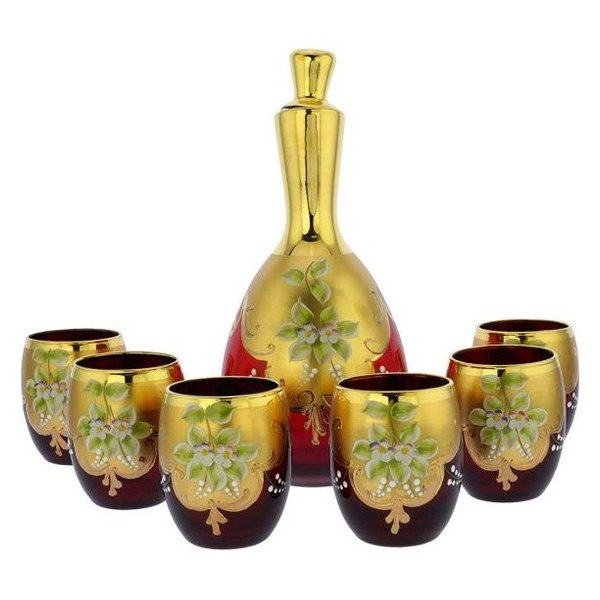 Etched glass wine tumblers
You can find etched glass wine tumblers in sets as well as individual pieces. We're partial to the excellent quality glassware at Rolf Glass, which is designed and crafted in the USA.
"Every piece of Rolf Glass is part of a long legacy of glassmaking and engraving in Western Pennsylvania," according to the company's statement of commitment. "Rolf Glass is dedicated to keeping the glass industry thriving in Western Pennsylvania and the USA"
Etched tumblers may be some of the most fun drinkware gifts to pick out – even for yourself. From our list below, you can see that the sky is nearly the limit on the themes you can find in etched glass wine tumblers. And we're just scratching the surface (pun intended!).
Each of the themes below refer to a 4-piece wine tumbler set from Rolf Glass, which can be found on Houzz or Amazon – we've provided the links to take you straight to the product. Each lead-free glass tumbler holds 17 ounces and is dishwasher safe.
Insulated Wine Tumblers
I've learned to venture beyond Yeti, which we love in my family, to try other insulated thermos containers. There are a few others on the market worth checking out.
Double-walled insulated wine tumblers work by creating vacuum-sealed insulation, which keeps temperature stable with an airless space between the inner and outer stainless steel walls. It reduces the conduction and convection processes.
Simply put, the double-walled vacuum-sealed containers don't transfer heat or cold to the outside environment. For example, if you are in a room in which the temperature is 70F, then the heat of your coffee will transfer into the room without the vacuum seal. Not a great way to heat a room or keep coffee hot!
BrüMate Wine Tumblers
The BrüMate brand comes with an inspiring success story. Dylan Jacob started the company in 2016 with the mission that no one would have to drink warm adult beverages ever again!
He sold 7,000 units in the first year. Fast forward to today when BrüMate sells well over 2 million products a year. The company is one of the fastest growing in the US without taking outside investment.
"With just an idea and a dream, I concocted a plan to shake up the drinkware industry and change the way you enjoy your favorite adult beverages for the better," Jacob says.
We love the energy behind the brand as well as features that put this tumbler is a class of its own.
Revive Wine Tumblers
The double-walled, vacuum-sealed Revive wine tumblers by Host are a little easier for me to hold because of the two indentations on each side. The lid works by a slide tab closure. As with most tumblers of this type: hand wash only.
You can find Revive wine tumblers on Amazon or Houzz. On Amazon, the tumbler can vary in price depending on color. On Houzz, all colors in this wine tumbler are the same price.
The Revive wine tumbler comes in five colors:
Yeti Wine Tumblers
Yeti wine tumblers are available in stainless steel or DuraCoat colors. The 10-ounce tumbler itself is dishwasher safe. It does not come with a lid. With commercial-grade stainless steel, the Yeti is puncture and rust resistant.
In addition to stainless steel, the Yeti wine tumbler comes in 12 DuraCoat colors. Yeti's DuraCoat system protects against fading, peeling, and cracking.
Vinglacé Wine Tumblers
The Texas-based Vinglacé brand is an excellent choice for wine drinkers who don't want to give up glass. Vinglacé created its products based on the motto: Taste the Wine, Not the Glass. The idea behind the strategy is to avoid tasting metal.
"We created the Vinglacé line of products so that beverages of all types could be enjoyed at the proper temperature, without any metallic taste or smell," according to the company. "Whether it's wine or champagne, coffee or tea, sparkling water or soda, nobody likes the taste of metal."
The 10-ounce Vinglacé wine tumbler is designed with a glass insert inside kitchen-grade stainless steel. Like other insulated tumblers, the Vinglacé design is double-walled, vacuum insulated.
However, the glass insert can be removed and washed separately.
The Vinglacé line also consists of:
Insulated Bottle and Tumbler Gift Sets
The insulated bottle and tumbler sets are one of our favorite picks for gifts. Our gift set recommendations for one insulated wine bottle and two tumblers share some important features.
Keeps wine chilled for extended periods. Some of the bottles will keep wine chilled for 24 hours whereas the tumblers should keep drinks cool for up to 12 hours.
Insulated bottles hold contents of a standard sized wine bottle.
Insulated bottles are leak proof.
Shatterproof and eco-friendly materials.
Comes with lids and straws
Premium Insulated Bottle and Tumbler Gift Set
Plastic wine tumblers
Four plastic wine tumbler sets make our recommendation list. Plastic wine tumblers, of course, are great for outdoor activities like picnics and pool parties.
The four we list here are reusable. If you don't want to load these in the dishwasher, then look for disposable versions like these 9-ounce clear plastic cups.
We looked for features such as dishwasher-safe, shatterproof, BPA-free, reusable, and if they were nearly indestructible that was a bonus.
Conclusion
I'm ready to clear out a cabinet just for wine tumblers!
As I journeyed through what seemed like mountains of research for the best wine tumblers, something happened along the way.
I found a new respect for glass artisans in places like Murano, Italy, who have handed down age-old techniques through the generations. I was excited to find USA-based glassmakers who hold fast to a commitment to excellence in craftsmanship and an American-made pledge.
I learned that wine tumblers are part of everyday culture in Italian trattorias. No one is worried about appearances. They just like to unwind over a tumbler of wine with friends and family. Rustic? Maybe, but it sure sounds relaxing to me!
I enjoy traveling with friends and family, and the same goes for my writing. Let us hear from you in the comment section so that we know you're along for the journey too!